Machining case of shaft hole keyway of Alberti angle head
---
No matter the vertical machining center, horizontal machining center or other equipment is used, due to the small opening space, the parts to be processed at the same time need a 90 degree angle, and the bottom is a blind hole. The bottom surface of keyway cannot be machined with traditional tools. Therefore, it is always a difficult problem to open the inner wall of the gear in a small space on the machining center.
Traditional processing methods, such as electrical discharge machining and corrosion machining, are inefficient and require the purchase of expensive special machines, which greatly increases the processing cost. For slotting machine processing, parts are required to be processed in batches. For small batches of multi-variety parts, slotting machine processing tool costs are high, and is not an appropriate processing method.
Alberti's micro-angle head provides a perfect solution for this kind of processing and solves the difficulties of this kind of processing.
The micro-angle head can be used not only for milling grooves, but also for drilling and tapping in the cavity. As one of the processing procedures, it can automatically change tools (ATC), which greatly provides the convenience of processing and reduces the processing cost.
Due to the small processing space and overhang of the micro-angle head, the structural design of the diagonal head, especially the rigidity of the angle head, is a very harsh test, because the micro-angle head is one of the products with the highest technical content in the angle head manufacturing field. Italian Alberti is a world-renowned manufacturer of specialized design and manufacturing angle heads. With rich design experience and precise processing methods, it provides customers with superior performance products.
When selecting the micro-angle head, the interference range of the tool must be considered, and the diameter of the overhang of the micro-angle head should be provided as far as possible under the condition of meeting the processing conditions. At the same time, the overhang length should be reduced to improve the rigidity of the angle head and reduce the cutting vibration.
Case application:
Customer: Wuxi Weifu
Workpiece material: cast aluminum
Processing position: 7.2mm keyway depth 150mm in Φ 35mm hole
Optional model: Alberti T90cn-0.4XL
Cutting parameters: rotational speed: 3000rpm, feed 400mm/min, cutting depth: 1mm
Processing beat: 23 seconds/one side
Customer: Suzhou Unike
Workpiece material: stainless steel
Processing position: Ø 4.313inch hole processing 1inch keyway depth 4.2inch
Model: Alberti T90cn-0.5L
Cutting parameters: rotating speed: 2000rpm, feed 200mm/min, cutting depth: 0.2mm
Processing beat: 1 hour/one side
Contrast:
A famous Japanese brand: * * showa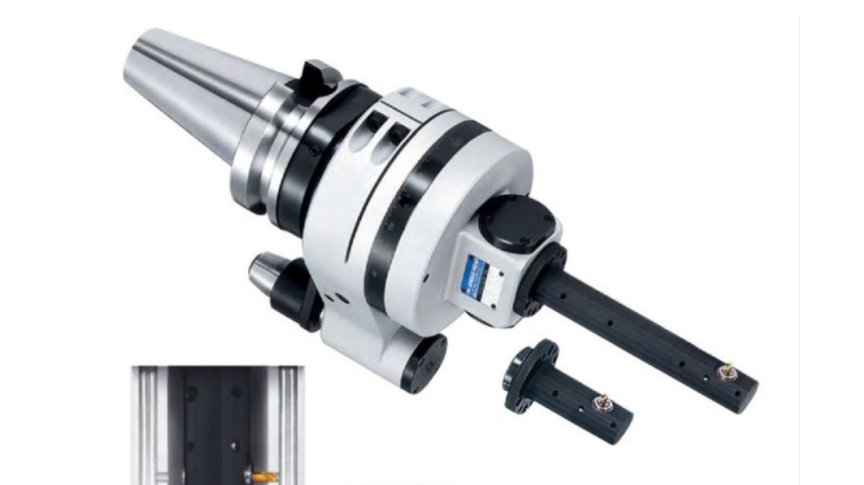 Cutting parameters: rotating speed: 1000rpm, feed 200mm/min, cutting depth 0.1mm,
The angle head manufacturer requires to use 30 minutes to stop for 15 minutes, and the processing time is 3 hours/one side