---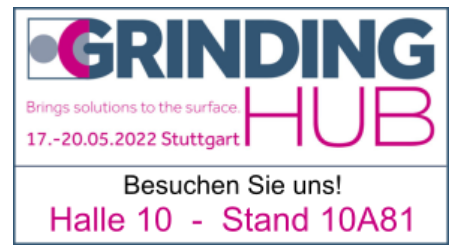 Date: May 17-20, 2022
Venue: Messe Stuttgart, Messepiazza 1, 70629 Stuttgart | West Entrance
Organizer: VDW (German Machine Tool Manufacturers Association) cooperates with Messe Stuttgart and Swissmem
Opening hours: 9:00 a.m. - 5:00 p.m. from Tuesday to Friday
Frequency: once every two years
GrindingHub is a new international grinding technology and ultra-precision machining center. The exhibition focuses on all aspects of value creation in this technology field. The central stage is grinder, tool grinder and abrasive. During the exhibition, all the relevant software tools, process peripheral equipment and measuring and testing equipment required for the grinding related QM process were introduced, so that the entire production environment of grinding technology was clear at a glance.
The GrindingHub is jointly designed and planned by VDW and its partner Stuttgart Exhibition Company and Swiss Mechanical, Electrical and Metal Industry Association Swissmem, and operates as an institutional sponsor. The exhibitors cover 38 industries. The top five industries include cylindrical and non-cylindrical grinding machines, grinding, polishing and honing agents, cutting and machining tool grinding machines, cooling lubricant treatment and surface grinding machines. The list of countries of origin of enterprises shows the international positioning of the exhibition: 213 exhibitors in Germany, 56 in Switzerland and 40 in Italy. Exhibitors also come from Austria, France, Japan and the United States. Sch ä fer said: "All this shows that the scope of GrindingHub is very broad and diverse. It covers the entire process chain of grinding technology. We believe that GrindingHub will also provide real benefits for visitors, and we should hold high the banner even in the era of economic challenges
FISCHER, Switzerland, as a global company specializing in the production of vertical high-precision center hole grinder (top hole grinder), also participated in the exhibition.